Environmental Dredging
Dredging of harbors and rivers for navigational purposes has been practiced for centuries and studied extensively. By comparison, environmental dredging (dredging for the sole purpose of removing contaminated sediment) is a relatively new development. For environmental dredging operations, the removal operation is highly controlled, with efforts focused on minimizing the removal of clean material while, at the same time, controlling contaminant residuals and limiting the spread of contaminants. This level of control is often achieved at the cost of production rate.
The two primary methods of contaminated sediment removal are mechanical and hydraulic dredging.
Mechanical dredging: Mechanical dredging removes sediment by capturing the sediment and then lifting the captured material to the surface. The dredged material is removed at near in situ solids content and density. A mechanical dredge usually consists of the following: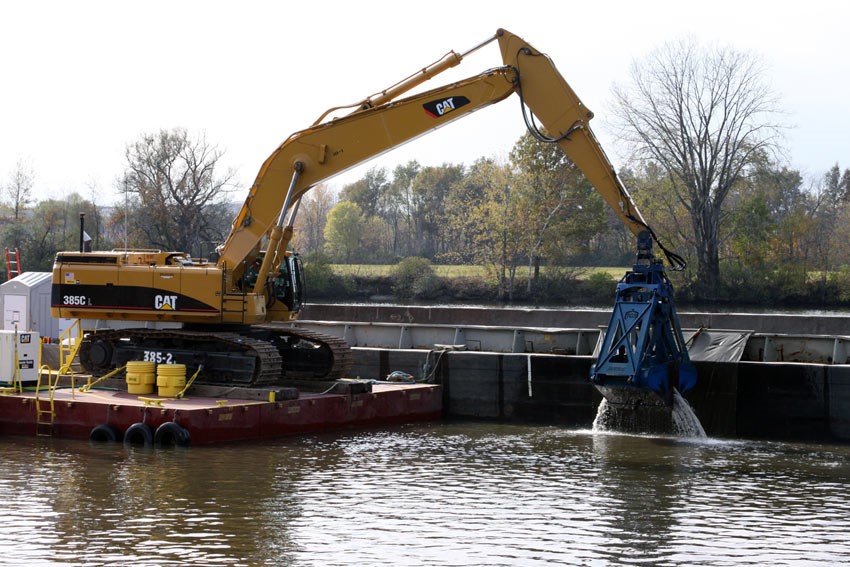 A bucket equipped with a cutting and grabbing edge
A crane or other means of lowering, manipulating, and retrieving the bucket (with the dredge material) through the water column
A means of transporting (usually a barge) the dredged material from the dredging site to a sediment handling and processing or disposal facility
Equipment typically used for environmental dredging includes environmental clamshell buckets or enclosed clamshell buckets.
Hydraulic dredging: Hydraulic dredging operations remove sediment by fluidizing and pumping the material to the handling location. A hydraulic dredge usually consists of a dredge head and a hydraulic pump. The dredge head is lowered into the sediment bed to fluidize the sediment by mechanical agitation and to draw the slurry into the suction pipe. Cutter heads and horizontal augers are the most common forms of dredge head design for environmental dredging. The hydraulic pump may be deck mounted or submersible.
The most significant advances in environmental dredging in recent years have been the result of improved planning and operational efficiency, rather than the result of improved technology. Enhanced planning and operational procedures, however, have been shown to improve removal efficiency and reduce the resuspension of sediment and generation of residuals for sites of any size. Residuals and resuspension are significant technical, environmental, and economic considerations for dredging. Reducing residuals and resuspension improves the overall effectiveness of removal and excavation technologies, and can be achieved with the following:
Employ sophisticated positioning system such as real time kinetic global positioning
Using enclosed dredge bucket for mechanical dredging
Site specific modification on hydraulic dredging
Evaluation on resuspension and residuals related to dredging operation
Dredged Sediment Handling
Management of sediment removed through dredging requires integration of the dredging technique with transportation, treatment, and final disposal or reuse of the dredged material in an approved location.
Dewatering: Dewatering may be necessary to prepare dredged materials for disposal. Dewatering reduces the water content and hence the volume and weight of the disposed sediment. If the material is to be reused or further treated, dewatering also leads to reduced transportation cost and improves handling properties. The nature and extent of dewatering needed depends on the sediment characteristics and the type of dredging, transport, and disposal methods planned for the removed material.
Passive dewatering requires sufficient space to store the sediment during the separation process. During passive dewatering, carrier water is removed primarily by gravity separation and to a lesser extent by evaporation. The more thinly the sediment can be spread at the dewatering site, the more effective passive dewatering by evaporation will be. Geobags with chemical conditioning have been used at many sites for efficient gravity dewatering of large volumes of sediment in relatively small spaces.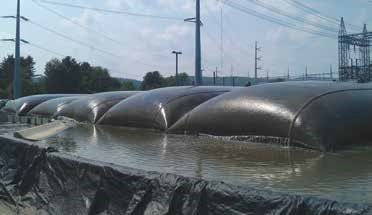 During active mechanical dewatering, equipment or materials are used to apply external pressure and can sometimes achieve a solids content of up to 70% by weight. Typical equipment used includes plate-and-frame presses, which are effective but operate in batch mode, and belt filter presses, which may be less effective but can be operated continuously.
Dredged Material Disposal Methods: Disposal of dredged is the placement of materials into a controlled site or facility to permanently contain contaminants within the sediment. Management is achieved through the placement of materials into facilities such as sanitary landfills, hazardous material landfills, CDFs, or confined aquatic disposal (CAD) facilities.
Removed sediment treatment: Removed sediment is sometimes treated in order to facilitate reuse prior to aquatic or land disposal. Sediment is treated to meet disposal regulations, to reduce volume to be disposed of, or to facilitate beneficial use. On-site treatment techniques may include dewatering and physical size separation, followed by bioremediation, chemical treatment, extraction/washing, solidification /stabilization, or thermal treatment.
Removed sediment beneficial reuse: If contamination levels, treatment methods, or economics permit, dredged or excavated sediment may be used for beneficial purposes (for example, as construction material for road building). As excavation plans are prepared, local needs should be reviewed and the beneficial use of excavated material should be considered.
Data Needs for Removal Design
Review the summary table for key site characteristic data: (Table 2)
Conditions at a site that may support sediment removal as a potentially viable remedy or a remedy component that is favorable for selection over capping, in situ treatment, or MNR include the following:
Areas currently acting as an unacceptable source of contamination
Areas not reasonably amenable to capping, in situ treatment or MNR, such as navigational channels, high energy, or erosional environment
Isolated areas such as hot spots or high concentration areas, which present a much higher risk among larger areas of lower risk
Areas of contamination with a more mobile contaminant source, such as NAPL
Areas with stable slopes along an accessible shoreline that can readily be isolated and dewatered for easier removal
Areas where water depth and other site conditions (such as wind and currents) are suitable for effective control of removal-related resuspension or releases
Sites located where relatively economical options for handling and disposal of the dredged material are available, such as a CAD facility, a CDF, or a local landfill
Removal activities that are acceptable to neighboring businesses and residence
Developing an appropriate scope for monitoring a sediment removal remedy is best done on a site-specific basis. Construction monitoring is typically conducted sediment removal and post-remedy implementation. Performance and long-term monitoring aid in determining remedy effectiveness.
Objectives
Measures
Chemical
Physical
Biological
Operation Phase

Determine whether the established performance metrics for remedy implementation or construction are being met.

1. Dissolved oxygen,
pH, temperature,
ammonia, sediment
COC concentrations;
2. Air monitoring at locations upwind and
downwind of operations to assess potential impacts
from removal operations;
3. Discharge monitoring
if water generated during removal, which requires discharge back to a waterway.

Bathymetry survey;
Turbidity;
Total suspended
solids;
Total organic carbon

NA
Post Remediation Monitoring

Performance: Determine whether the remedy has been successful in reducing concentrations of COCs in sediment to acceptable levels (RAOs) defined in the remediation decision documents, and whether specific criteria (such as cap thickness or dredge depth) have been achieved.

General chemistry;

COCs concentrations (pore water/ near surface
sediments)

Bathymetry survey
NA
---
Source: ITRC
Coordinator: EnvGuide Team