Number Under the Plastic Bottle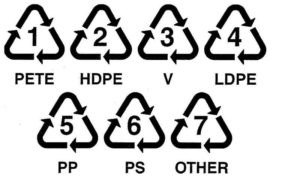 Many people like to reuse mineral water bottles or fruit juice bottles as containers for water, oil, vinegar, soy sauce, pepper, etc. Some street vendors also use this method of reusing clinker products. While some people think this is more environmentally friendly, they know this is a bad habit that could cultivate a hotbed for diseases.
Every plastic container or bottle has a recycling symbol that is composed of a number between 1 to 7 found within a triangle. Some people wonder what this symbol means, but since many do not understand its meaning they just pick a random bottle to refill. Now is the time to wake up because you may be harming yourself. How long can you use these bottles – not only soft drink bottles but even mineral water bottles? How many times do you crush bottles after use, as instructed? With regards to bottles you get in the market, do you know its safe shelf-life duration? Have you ever given this a second thought? There is a simple way of knowing how long you can use or re-use a plastic bottle for. How so, you may ask? These numbers in triangles at the bottom of bottles can give you a good indication of its proper use.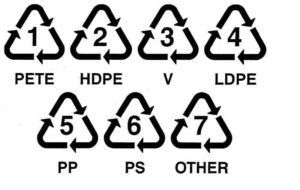 The Recycling Symbols
Plastic #1 – PETE or PET (Polyethylene Terephthalate)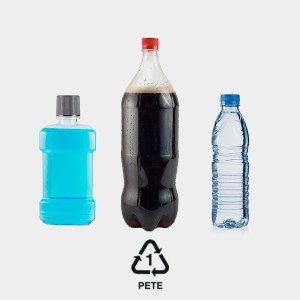 Plastic #1 is usually clear and used to make soda and water bottles. It is picked up by most curbside recycling programs. Some consider it safe, but this plastic is known to allow bacteria to accumulate.
PET plastic has a porous structure that absorbs bacteria over time and becomes more porous with each use. Because germs can reside inside the plastic, you cannot always wash them away.
Plastic #1 is mostly found in soda bottles, water bottles, beer bottles, salad dressing containers, mouthwash bottles, and peanut butter containers.
Keep plastics containing food or drink out of the dishwasher or other hot places, like your car and directly in the sun. The warmer plastic gets, the more it tends to break down, melt, and release chemicals like DEHP. It cannot use for wine and oil.
Plastic #1 is recycled into tote bags, furniture, carpet, paneling, fiber, and polar fleece.
Advice: After you finish drinking 1 # plastic bottle beverage, we recommend that you directly discard this bottle instead rescue it as a glass, or used to make storage containers containing other items, so as not to trigger health problems that outweigh the benefits.
Plastic #2 – HDPE (High Density Polyethylene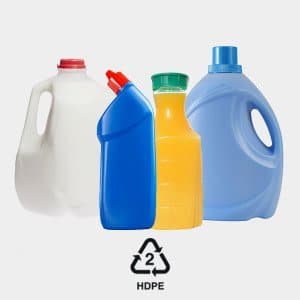 Plastic #2 is typically opaque and picked up by most curbside recycling programs. This plastic is one of the 3 plastics considered to be safe and has a lower risk of leaching.
It's found mostly in milk jugs, household cleaner containers, juice bottles, shampoo bottles, cereal box liners, detergent bottles, motor oil bottles, yogurt tubs, butter tubs, juice bottles, butter tubs, and toiletries bottles are made of this.
Plastic #2 is recycled into pens, recycling containers, picnic tables, lumber, benches, fencing, and detergent bottles, to name a few.
Cleaning these items may not leave them completely clean and safe to use. If this is the case, do not reuse them.
Advice: Type 2 plastic containers that hold cleaning and bath products can be reused after they are carefully cleaned. Unfortunately, they are often poorly cleaned, with traces of the original cleaning supplies left to become a breeding ground for bacteria.
Plastic #3 – V or PVC (Vinyl)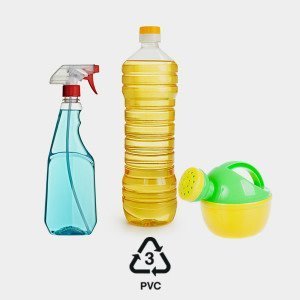 Plastic #3 is used to make food wrap, plumbing pipes, and detergent bottles, and is seldom accepted by curbside recycling programs. These plastics used to, and still may, contain phthalates, which are linked to numerous health issues ranging from developmental problems to miscarriages. They also contain DEHA, which can be carcinogenic with long-term exposure. DEHA has also been linked to loss of bone mass and liver problems. Don't cook with or burn this plastic.
It's found in shampoo bottles, clear food packaging, cooking oil bottles, medical equipment, piping, and windows.
Plastic #3 contains chemicals like lead, DEHA and harmful dioxins. These can lead to various health risks, such as birth defects, hormone disorders, and cancer. It is best for your health and the environment to avoid plastic #3.
Most of them can only be used under 81 degrees Celsius. A high temperature condition can release toxic materials. This plastic is rarely used in food packaging. Since it contains residues that are difficult to clean, do not recycle these for residential use.
Advice: For Type 3 plastic we recommend avoiding food-for-service uses as much as possible, and containers for this material are already less used for food packaging. If used, do not let it heat.
Plastic #4 – LDPE (Low Density Polyethylene)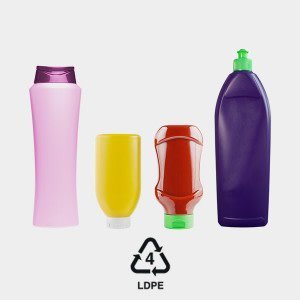 Low density polyethylene is most commonly found in squeezable bottles, shopping bags, clothing, carpet, frozen food, bread bags, and some food wraps. Curbside recycling programs haven't been known to pick up this plastic, but more are starting to accept it. Plastic #4 rests among the recycling symbols considered to be safe.
When high temperatures are applied, harmful and toxic substances may enter the human body and cause breast cancer, birth defects and other diseases. Cling film cannot be used in the microwave oven.
This plastic is recycled into compost bins, paneling, trash can liners and cans, floor tiles, and shipping envelopes.
Advice: For Type 4 plastic, please avoid using them in high temperature conditions because it could release toxic chemicals into the human body. This plastic could also melt in water and once ingested, cannot be decomposed by the human body, posing a health risk.
Plastic #5 – PP (Polypropylene)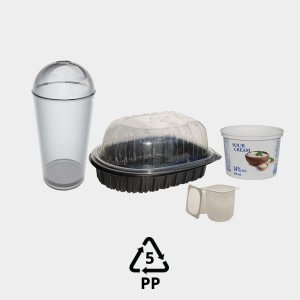 Increasingly becoming accepted by curbside recycle programs, plastic #5 is also one of the safer plastics to look for.
It is typically found in yogurt containers, ketchup bottles, syrup bottles, and medicine bottles.
Polypropylene is recycled into brooms, auto battery cases, bins, pallets, signal lights, ice scrapers, and bicycle racks.
Some microwave meal boxes are made of PP No. 5, but the lid is made of PE No. 4. PE cannot withstand high temperatures; therefore, it cannot go together with the box in the microwave oven.
Advice: The material of this container is opaque or translucent. It has the advantage of being acid, alkali, chemical, collision, and high temperature resistant (PP melting point up to 167 ° C). The products can be steam sterilized and are machine washable. Therefore, when purchasing food
grade plastic products, please give more consideration to # 5 plastic products.
Plastic #6 – PS (Polystyrene)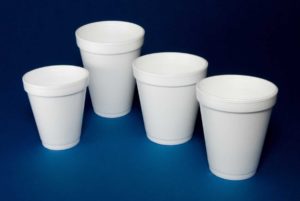 Polystyrene is Styrofoam, which is notorious for being difficult to recycle, and thus, bad for the environment. This kind of plastic also poses a health risk, leaching potentially toxic chemicals, especially when heated. Most recycling programs won't accept it.
Plastic #6 is found in compact disc cases, egg cartons, meat trays, and disposable plates and cups.
It is recycled into egg cartons, vents, foam packing, and insulation.
Advice: Type#6 material containers are common in disposable tableware, coffee cups, etc. Within the past few years, high-quality polystyrene has been an option, such as food grade EPS injection molding styrofoam, but it has a high cost and is rarely used in the market. This type of plastic is difficult to recycle and poor in natural decomposition; this results in a large amount of white garbage. It cannot be used in the microwave with exposure to high temperatures containing food. Please try to avoid using this type of plastic.
Plastic #7 – Other, Miscellaneous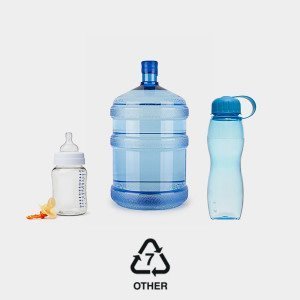 All of the plastic resins that do not fit into the other categories are placed in the number 7 category. It's a mix bag of plastics that includes polycarbonate, which contains the toxic bisphenol-A (BPA). These plastics should be avoided due to possibly containing hormone disruptors like BPA, which has been linked to infertility, hyperactivity, reproductive problems, and other health issues.
When buying plastic #7, check for a "BPA Free" label to ensure your health and safety. Even for #7 BPA Free, DO NOT use it in high temperature situations. At increasing temperature exposure, higher amounts of toxins will be released from the bottle.
Plastic #7 is found in sunglasses, iPod cases, computer cases, nylon, 3- and 5-gallon water bottles, and bullet-proof materials.
It is recycled into plastic lumber and other custom-made products.
Advice: This material container is common in cups, etc. Please consider choosing items that have a "No BPA" logo on it. Do not heat items or place them in direct sunlight. Also, do not clean it in a dishwasher. If the container has any signs of cracks or other damages, we recommend you stop using it. Even so, this type of glass cannot be filled with hot water. If you want to make a cup of tea or drink hot water, select the stainless-steel vacuum flask.
---
Date: March 5, 2018
Images: Google Images
Coordinator: EnvGuide Team
Sources:
1. USEPA https://www.epa.gov/
2. US Society of the Plastics Industry http://www.plasticsindustry.org/
3. Natural Society Website http://naturalsociety.com/
4. Stockton Recycles http://www.stocktonrecycles.com/
5. Food storage moms https://www.foodstoragemoms.com
6. Wikipedia https://www.wikipedia.org/