LNAPL Conceptual Site Model and Site Characterization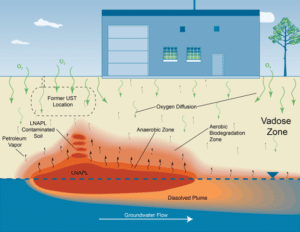 The LNAPL Conceptual Site Model (LCSM) is the body of information describing aspects of the LNAPL and site setting necessary to satisfy the LNAPL remedial objectives. The LCSM is similar to a conceptual site model, which includes the source, pathway, and receptors, but the emphasis in the LCSM is on the source component (i.e., the LNAPL). Hence, the additional information to consider when mobile LNAPL is present include the following:
Is there an ongoing LNAPL release?
What is the LNAPL spatial distribution (i.e., the description of the LNAPL body)?
Are there risk and exposure issues attributed to the presence of the LNAPL?
Are there potential explosivity issues associated with the LNAPL?
What are the LNAPL-specific regulatory requirements?
What is the LNAPL recoverability?
The LCSM facilitates understanding of the LNAPL conditions, site risks, and how best to remediate. LCSM may comprise some or all of the following scientific and technological information.
Site setting (historical and current)—includes land use, groundwater classification, presence and proximity of receptors, etc.)
Geological and hydrogeological information/setting
LNAPL physical properties (density, viscosity, interfacial tensions, vapor pressure) and chemical properties (constituent solubilities and mole fractions)
LNAPL body spatial distribution (vertical and horizontal delineation)
LNAPL mobility and body stability information
LNAPL recoverability information
Associated dissolved-phase and vapor-phase plume information
LNAPL natural depletion processes
The level of detail required for a given LCSM is site specific and based on the complexity of environmental conditions at each site, the regulatory framework, and the overall LNAPL site management objectives. In certain situations, where the size of the LNAPL body is relatively small and a presumptive remedy such as soil excavation is adequate to satisfy the LNAPL remedial objectives, the LCSM may be limited, with a primary focus on LNAPL delineation or spatial distribution. In other situations, where a presumptive remedy such as excavation is not feasible, the LCSM needs adequate detail, particularly in terms of hydrogeology and LNAPL spatial distribution and mobility. With the distribution and mobility aspects understood, the recoverability aspects become more straightforward to select and manage.
Typically, the development of LCSM requires the collection of both existing data and new data. This data could be as simple as soil borings, groundwater and other direct / conventional methods, laboratory chemical and physical parameters, as well as other more innovative or "indirect" methods as well. Additionally, there are database and empirical values for sites available for the professional based on similar site soil types as well.
Existing soil data is typically readily available for most sites. However, most of this more historic data is typically in the form of total petroleum hydrocarbon (TPH) data. Information from existing boring logs can be used to characterize LNAPL source zone geometry, including stain, color, organic vapor meter readings.
Dissolved phase plume map is used to characterize source area shape, size and depth; assess if natural attenuation is ongoing, and identify there is shrinking/stabilized groundwater plume (which indicates stable LNAPL).
LNAPL saturation data over time can provide the LNAPL saturation limits and vertical extent, source zone characteristics, confined or unconfined condition and lateral stability of LNAPL body. In well product thickness is measured to provide the LNAPL thickness.
Continuous Core and Field Measurements
Detail soil boring log through the zone of LNAPL are important samples which provides lithologic data, water content, odor, soil structure, organic vapor meter reading data. The assessment of the data can be aided by use of oilphillic dyes and ultra violet (UV) light to determine the presence of LNAPL.
Other field measurement tools are also available for characterizing LNAPL, including lased induced fluorescence (LIF), membrane interface probe (MIP) and FLUTe for vertical distribution of LNAPL contaminants.
Hydraulic Recovery Evaluation and Limits
The objectives of recovery predictions are to design efficient free product recovery systems using trenches, skimmer  wells and single and dual-pump wells , to provide estimates of recovery performance, to provide estimates of recovery time, and to provide a means of establishing practical endpoints.
Based on the complexities of LNAPL occurrence and behavior, and the misconceptions, LNAPL volumes and recovery are typically over-estimated. As LNAPL is recovered, its saturation is being decreased, and therefore, its mobility and recoverability is diminishing.
The line of evidence to assess mobility includes LNAPL type, LNAPL release date, LNAPL release volume, soil type, and plume stability. A known release date or volume are also very useful indicators for potential recoverability, as it is generally well understood that LNAPL spills spread out relatively quickly, and reach of point of stability within a short period of time. Plume stability can be demonstrated fairly easily using historic monitoring data that has been collected consistently over time.
To assess the recoverability of LNAPL, field measurements can be performed on site to determine the mobility of LNAPL:
Similar to a typical slug test for determining soil hydraulic properties, Baildown test involves rapidly removing LNAPL from the well while minimizing recovery or disturbance of the groundwater. The baildown test can then be used to calculate the oil transmissivity.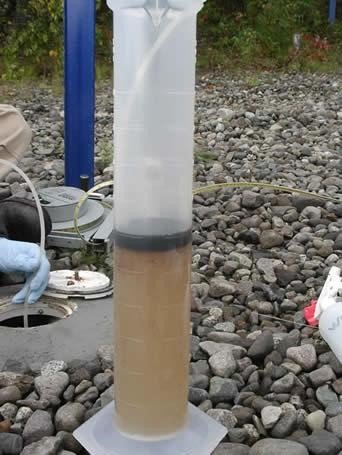 Figure 1: Baildown test for LNAPL transmissivity measurement
Figure 2: Pilot test
Pilot/pumping (product 1) tests provide some of the most valuable information regarding potential LNAPL recoverability, particularly for simpler sites where more complex modeling may not be warranted. Similar to baildown tests, they can be used to quantify important parameters such as transmissivity.
In summary, LNAPL mobility and body stability are typically evaluated using various lines of evidence, including the following:
Historical data (e.g., depth to LNAPL/water levels (product 1),in-well thicknesses, evidence of LNAPL migration, stable or shrinking dissolved-phase plume associated with LNAPL, etc.)
Site-specific laboratory data (e.g., total petroleum hydrocarbons [TPH] profiling (product 1), LNAPL saturations in soil cores (product 1) (product 2), etc.)
Analytical and/or numerical modeling results
LNAPL risk assessment issues (including the consideration of both current and potential future site conditions)